Sunday, September 9th, 2012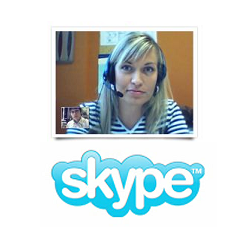 Have you ever heard of Kazaa or the entrepreneurs who built it, Niklas Zennström and Janus Friis?  It was the most popular internet software download in 2003.  Kazaa was a peer-to-peer file sharing service that was primarily used to share pirated music files online and it peaked in popularity sometime after Napster was shut down and when Walmart and then iTunes became the top music retailers in the USA.   Well if you ever heard of  Skype then you're familiar with the next big project the Zennström & Friis took on.
Skype is a free download that enables you to make free voice and video calls through the internet.  It uses a combination of VoIP technology and peer-to-peer file sharing technology to deliver a virtually free video conferencing service to the world.  You just need a webcam and/or microphone and a computer with internet access.
First released in 2003, Skype was bought by eBay in 2005 for $2.6 billion then in 2011 it was bought by Microsoft for $8.5 billion.  The future of any communication technology is always uncertain, but no matter what, the ability to see and speak with people around the globe for free is turning out to be very popular.  With 30+ million users every day accumulating over 300 billion minutes of online conversations in 2011 alone.  It is an amazing growth story that's starting to make a profound change to the way we communicate.
So check out skype.com today, you might even want to consider downloading it yourself.