TED – Ideas Worth Spreading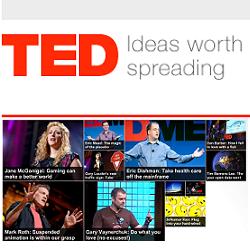 TED stands for "Technology Entertainment Design" and was started in 1984 as a conference that brought people from those three fields together.  Originally held annually in Long Beach, California, "TED Talks" are also held in Oxford, England (TEDGlobal) and in Mysore, India (TEDIndia) for the first time in 2009. 
At their website: TED.com "the best talks and performances from TED and partners available to the world, for free." (AboutTED).   It' well worth a few minutes of your day to check out he talks at TED.com sometime today.
A Random Sampling of TED Talks to consider:  Gary Lauder's New Traffic Sign, Pattie Maes Demonstrates the Sixth Sense, Hans Rosling's New Insights on Poverty, Jill Bolte Taylor's Stroke of Insight, and Blaise Aguera y Arcas demos Augmented-Reality Maps.